Types Of CBD Explained: Full Spectrum, Broad Spectrum, and Isolate
When you're a new CBD user or thinking about using CBD as an option to treat your symptoms or condition, it can be confusing to look at the varying kinds of CBD available and figure out the best one (or ones) for you.
To help you make the right choice, this article will give an overview of the different CBD types available on the market today.
There are Three Types of CBD Extracts
CBD extracts are available in three types: full spectrum, broad spectrum, and isolate. All three types of extract have their unique properties and benefits. Now, let's take an in-depth look at each kind of extract and how they differ from one another.

Among all cannabinoids found in cannabis, CBD has the second-highest concentration. It's also one of at least 100 cannabinoids identified in cannabis. Full-spectrum CBD extracts contain all the cannabinoids, terpenes, essential oils, and flavonoids found in the cannabis plant.

Terpenes like limonene give plants their unique smells and flavors, and they also have a variety of health benefits. In particular, terpenes can help CBD work more effectively in your body by increasing its bioavailability.

Flavonoids are a class of plant-based phytochemicals with anti-inflammatory, antioxidant, and anti-cancer properties.

Cannabinoids are chemical compounds present in cannabis that interact with your body's endocannabinoid system.
Full-spectrum extracts provide a full entourage effect since they contain more cannabinoids than just CBD alone. A full-spectrum cannabis product includes a full range of natural cannabis compounds, including THC. As a psychoactive compound, THC produces a "high" feeling in the body.
In order to comply with FDA regulations, CBD products must not contain more than 0.3% THC. Moreover, full-spectrum CBD also includes other cannabinoids such as
CBN (cannabinol)

CBC (cannabichromene)
Broad-spectrum CBD is a hemp extract similar to full-spectrum CBD. The only difference is that the extract usually passes through more extraction steps to remove THC while retaining the rest of the plant's natural compounds. However, lab testing shows some broad-spectrum CBD products contain minimal amounts of THC, which means they are "almost THC-free."

Isolate is another popular CBD extract that has been gaining popularity over the last few years due to its high purity levels. In short, it contains only the cannabinoid CBD. It doesn't include any THC, other cannabinoids, terpenes, and other compounds from the original cannabis plant.
Manufacturers use CBD isolate to make CBD oil, which is one of the most popular forms of cannabinoid products available today. It's also used in other products such as edibles, tinctures, and capsules. Because it's an isolated version of the extract, it doesn't have any THC, so don't worry about getting the psychoactive effect!

What Is the Best CBD Product to Start With?
On a federal level, CBD is legal in all 50 states as long as they contain no more than 0.3% THC. Legalization became possible due to the passage of the 2018 Farm Bill. Nevertheless, CBD products may be subject to further regulation in select states.
Some states, such as Hawaii and Kentucky, only allow CBD oil derived from hemp. In contrast, others prohibit CBD products from containing any amount of THC. Some states, such as Alabama, only legalize CBD with 0.3 THC to treat certain medical conditions. The main point is that various regulations apply in different states. Therefore, it is important to consider these factors when purchasing. The next step is to consider dosage and strength, which will be further discussed in the following section.
What Is the Best CBD Strength to Buy?
The best CBD product to use is the one that works for you. If you're new to CBD and looking for a place to start, it's essential to remember that everyone's body is different, so what works for one person might not work for another.
CBD Isolate contains pure cannabidiol and does not have any other cannabinoids or terpenes in it. This makes it the easiest to dose and use for many beginners.
As long as drug tests aren't an issue, and you want to consume the most potent CBD, you may want to opt for full spectrum CBD. Since full spectrum CBD extracts contain the full range of therapeutic compounds in cannabis plants, this produces an entourage effect.
The entourage effect by Raphael Mechoulam refers to the synergy between cannabinoids, terpenes, and other compounds. These compounds are most effective in treating a wide variety of conditions, including pain, anxiety, and depression, when they work together rather than alone.
Nevertheless, further research is still needed on the entourage effect. Many CBD users swear by the entourage effect. Some users, however, claim that CBD isolate offers sufficient therapeutic benefits.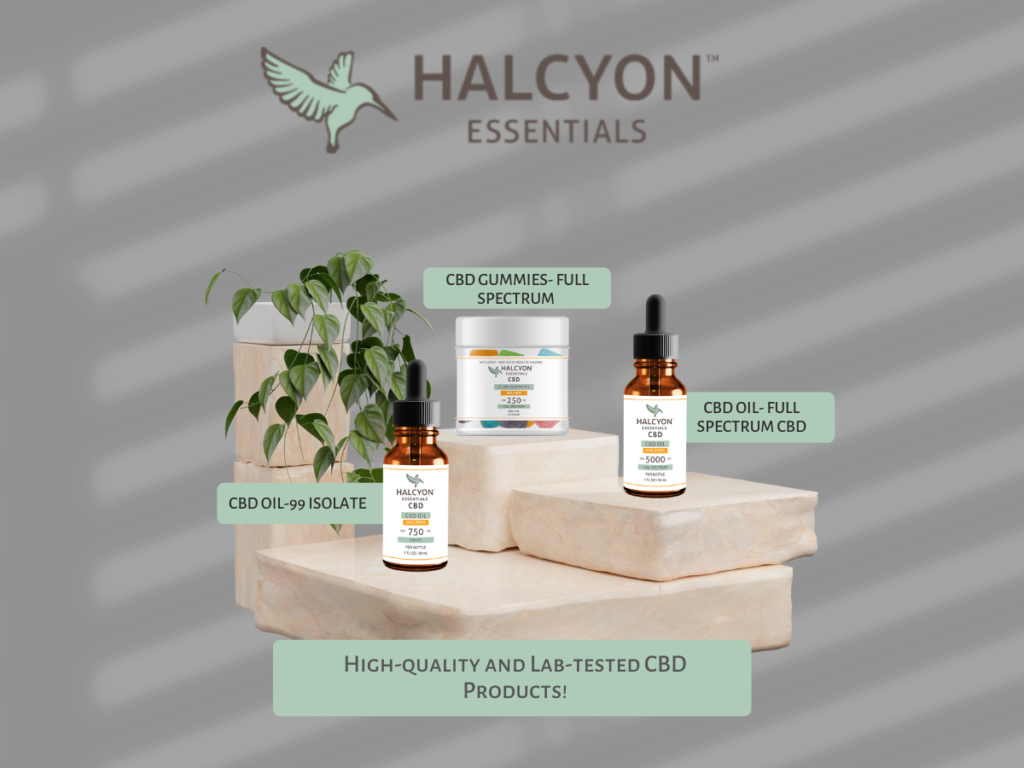 Buy CBD From Reliable Sources!
So many CBD products are available, and it is growing in popularity as a health and wellness product. Undoubtedly, the CBD market has become flooded with low-quality and third-party extraction products that are not lab-tested. The essential thing to do before you hop on the CBD train is to identify reputable and reliable CBD sources.
Halcyon Essentials is a leading manufacturer of lab-tested CBD products in the Southeastern United States. The safety, purity, and potency are guaranteed by third-party testing before releasing any product! We make sure that all our customers are receiving a high-quality CBD product, and more importantly the full benefits!